As a Manufacturing supplier, you face unique challenges when driving sales growth.
Your business may have started with relationships and referrals. Over time, word of mouth becomes unscalable. So, you hire a Sales Executive to bring in more deals. But without enabling them, you may not experience the revenue growth that you are expecting.
Enter "Sales Enablement" for manufacturing – a practice that helps your salespeople sell more effectively in B2B manufacturing.
What is Sales Enablement for Manufacturing?
Sales Enablement for manufacturing refers to the process of equipping sales teams within the manufacturing industry with the necessary strategy, tools, resources, and training to effectively engage potential buyers, streamline sales processes, and drive successful conversions.
When you are successfully enabling your sales team, they will better engage potential customers, drive meaningful conversations, and move pipeline opportunities to closed deals.
At Factur, we've broken Sales Enablement into 4 categories: Strategy, Tools, Resources, and Training.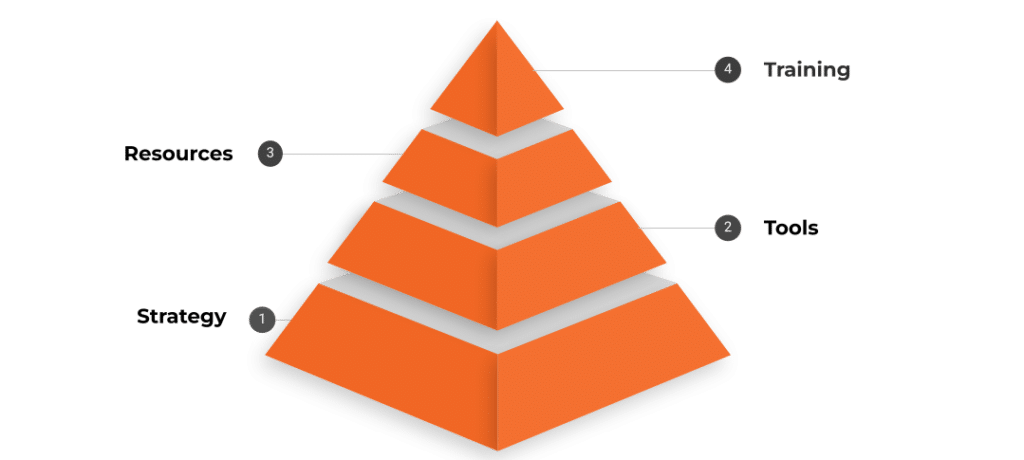 Why is Sales Enablement Important in Manufacturing?
As a B2B Manufacturing supplier, you're presented with challenges in the sales process:
Complex buyer journeys and decision-making processes within OEMs
Technical selling which may require the involvement of engineers
Long sales cycles (often >1 year)
Approval of other stakeholders outside of just your main contact
Customization demands
Heavy competition
Your sales team members will need support to ensure that deals aren't lost as you move them through the pipeline.
But aren't you talking about … marketing?
One way to think of Sales Enablement is the bridge between your Sales & Marketing initiatives.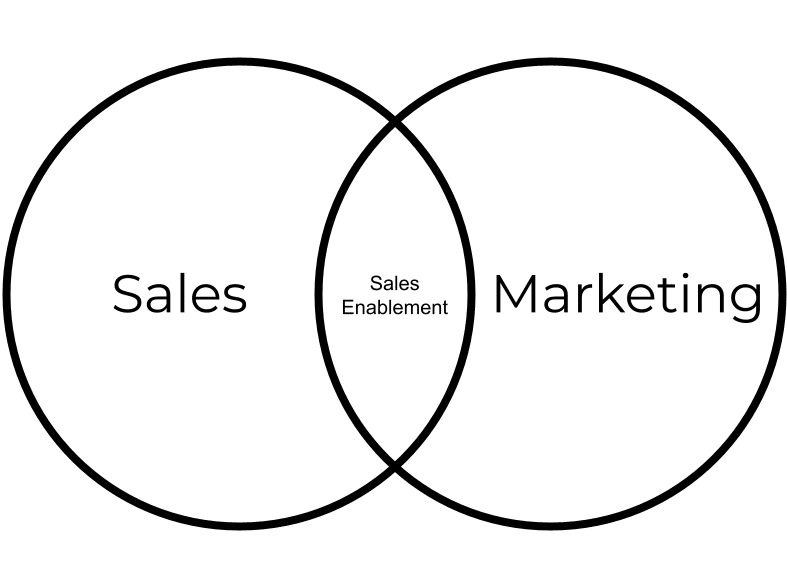 Note: This isn't a perfect visual. For example, your marketing team may have very little to do with your sales incentive strategy depending on the size of your organization.
Example: Let's say you want a case study to live on your website so that you can build the authority of your brand. While your website is a perfect place to host that type of content, you'll also want to make sure your case studies can be distributed and consumed easily as a Sales Resource.
So yes, Sales Enablement should be influenced by your marketing, but it is not necessarily exclusive to marketing or sales.
Part 1: Sales Enablement Strategy
Before creating resources or putting tools in the hands of your sales team, take a step back and think. Don't create that capabilities sheet quite yet… just think.
Who are you serving? What manufacturing niche are they in? What's the job title of the person that's going to sign your check with your business's name on it? How will you get in touch with these people? What type of sales personality should I hire to get the job done?
You will deal with these questions as you drive through your strategy.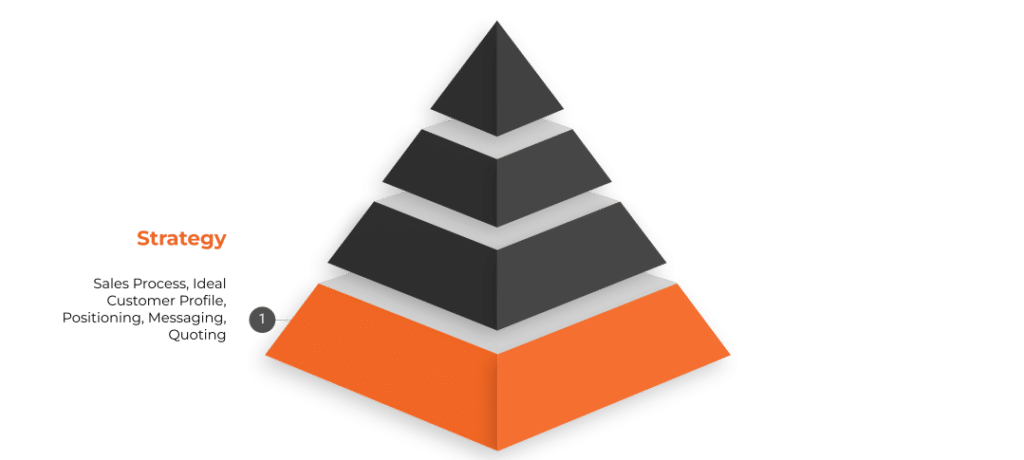 Sales Process
As your organization grows, documenting your sales process and naming pipeline stages will help you to create clarity and clearly measure your salespeople.
Consider the stages that your prospects go through during a sales cycle. Depending on the length of your sales cycle, the complexity of your offer, the price, and the decision-makers involved, things can get complex quickly.
Many of our Manufacturing clients utilize a 6-step framework. This includes:
Stage 1: Cold Outreach
Stage 2: Appointment Setting
Stage 3: Qualification
Stage 4: Selling
Stage 5: Quoting
Stage 6: Closed Won
If anything moves to "closed lost", we then prospect that target customer again long-term.
Your stages may be more or less; typically, we find that less is more here. Overcomplicating the number of steps can overcomplicate your sales process.
Ideal Customer Profile (ICP)
Often, the best place you can start as a Manufacturing Supplier when considering strategy is to define your Ideal Customer Profile (ICP).
Many SMB's in manufacturing ignore this basic exercise and then wonder why they're not being chosen over their competition.
Answering questions about who you're serving, the problems they're encountering, and how you can help them will set you apart.
When doing this exercise, consider your best customers and the problems they share with you. You will find common threads across them as you build your ICP.
Develop your Ideal Customer Profile (ICP) to create the clarity your team needs as you execute sales & marketing tactics.
Read More »
Positioning: Differentiate from other Manufacturing Suppliers
Positioning is your opportunity to plant a flag in the ground and own a space in your customers' minds. If you're presenting yourself like a commodity as a manufacturing supplier, that's what you'll be thought of.
You have the power to decide how you want to be remembered by your manufacturing customers, which is the beautiful thing about positioning.
Consider Precision CNC Contract Manufacturer for example. There are roughly about 17,000 CNC shops in the USA (as of this writing in Aug, 2023).
How do you stand out?
Avoid:
Being the perfect supplier to a laundry list of 10 industries (no one will believe you)
Creating a position around "Quality", "Service", and "Delivery Times" (everyone says that)
Positioning based on total years of experience in your company
Pursue:
Owning a niche–or sometimes better, a sub-niche–and positioning yourself as an expert in that category
Highlighting process as a differentiator- what are you doing in your process that other manufacturing suppliers can't fulfill?
Clearly articulating the types of parts you make as opposed to making anything and everything that's sent your way. Imagine if you owned a specific part in the minds of your customers. 
The key here is to not be afraid of losing customers due to having focus. The focus will drive meaningful conversations with your perfect target accounts.
Messaging: Speak Directly to Your ICP
You've nailed down your position in the market. Now how do you talk to your customers?
Your approach to messaging will feed into that strategy, both in your sales and marketing speak. 
Avoid:
Talking about yourself too much (unless you're demonstrating authority & expertise)
Making your website into a capabilities list (though a capabilities list has its place)
Highlighting terms such as: "Quality," "Service," and "Price"
Pursue:
Adding personality to your brand. One customer in the Plastic Injection Molding space messages about their "nerdiness" and how they "geek out" about plastics. That's being remembered!
Using a framework such as StoryBrand® to position your customers at the center of your story 
Using your customers' language: technical speak has its place if you target engineers, whereas executives may be focused on discussions on ROI metrics 
Quoting Strategy
Have you ever experienced a quoting bottleneck? The quotes are pouring in, so much that your quoting team can't keep up.
Your sales team is getting frustrated because prospects need you to turn things around faster, but there's a quoting bottleneck. What do you do?
Put some quoting rules in place for your sales team. When Caleb Townsend (Factur co-founder) worked in Electronics Contract Manufacturing, his team would strategically choose to submit RFQs and reject them based on these rules:
"You have to set rules for your quote team. Quoting can be a bottleneck within organizations because salespeople just throw quotes over to them, right? 'Hey, can you quote this?' And for a lot of companies, that's an expensive process. It's expensive to do the labor to quote, especially when you don't get the business. So the rules they should have: when they will and will not go into a quoting scenario. 

And so our rule was we'd only compete against one other person. I've heard other companies that say they'll quote against two other companies. But when an OEM is looking to outsource parts and they're going to call up five or six potential suppliers, the person who wins that bid is probably really the person who's lost it, right? Because they're racing to the bottom. It's really hard to separate yourself."

– Caleb Townsend
Part 2: Sales Enablement Tools
They say that a tradesman is only as good as the tools in his belt. What are you equipping your sales team with to execute your strategy?
Sales Enablement tools help your sales team save time on menial tasks, provide behavioral insights, and give them the ability to reach key decision-makers, without reaching out to one person at a time.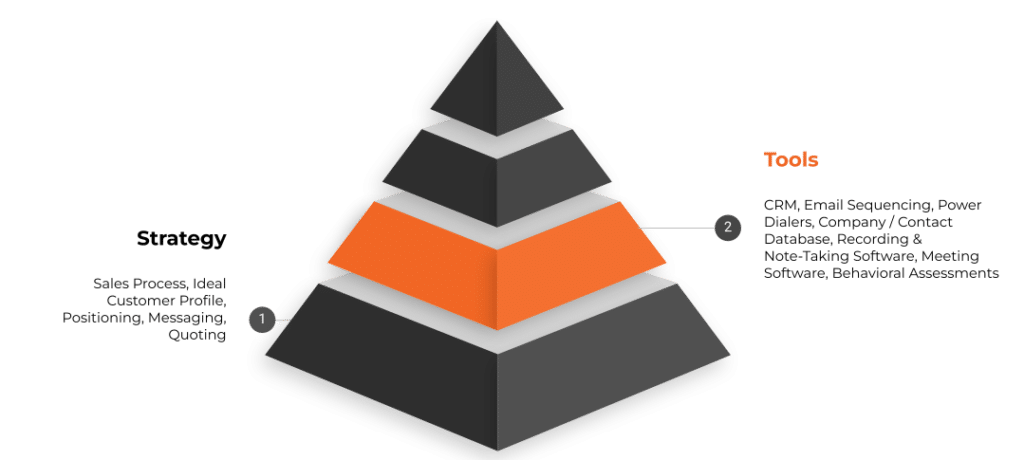 Here are some key B2B sales enablement technologies and how manufacturing suppliers can effectively utilize them:
Customer Relationship Management (CRM) Software
A CRM serves as the backbone of sales enablement. It allows sales reps to efficiently manage and track customer interactions, leads, and sales opportunities.
By using a CRM, suppliers can organize valuable customer data, monitor sales pipelines, and ensure timely follow-ups.
Email Sequencing Tools
Email sequencing tools like MixMax automate email outreach.
These tools enable suppliers to create personalized content and scheduled email sequences to engage prospects at different stages of the sales cycle.
It's important to note that most replies don't come from a single email, but come from interactions over a long period of time. With automation, even in busy times, you can ensure consistent follow-up with prospects.
Power Dialers
Calling individuals 1-by-1 is extremely inefficient and costly. Power dialers duplicate the effort of 1 salesperson by calling multiple people at one time until someone picks up.
AI dialers, like Orum, allow efficiency in dialing. Additionally, features like local presence and intelligent call routing can increase the chances of connecting with prospects.
HINT: Make sure that you are dialing DIRECT DIALS! Otherwise, you'll be working through phone trees, which is typically not an efficient use of your top sales talents' time.
Company & Contact Databases
If you know who your ICP is, your sales team will need access to company and contact data.
Unfortunately, these databases can be poorly organized; SIC codes and NAICS codes can be a good starting point to conduct research, but they only represent a fraction of your total addressable market.
In combination with an email sequencing tool, a strong contact list can allow you to reach out to prospects at the most efficient cost per engagement.
Recording and Note-Taking Software
At Factur we use software such as Gong.io to:
Provide feedback to our team members
Recall details that may not have been captured in handwritten notes
Analyzing interactions to identify areas for improvement, assess customer needs, and fine-tune their sales pitches.
For clients that allow, we also save recordings and use them as testimonials
Meeting Software
Turn on your video. You'll gain trust and establish rapport without making the drive to their facility.
Behavioral Assessments
Behavioral Assessments like The Predictive Index can help your sales teams understand their natural giftings and work styles.
It's also a helpful tool for enabling your hiring managers. Stakeholders can provide input parameters needed for the job, and you'll be able to assess prior to them coming on whether or not they're a fit for the role.
You'll get insights into their profile, their job match, and once they come on as an employee, how you need to manage them.

Part 3: Sales Enablement Resources
Prospects all learn differently. Consider a visual learner vs. an auditory learner. How are you aiding them in the sales process based on their needs?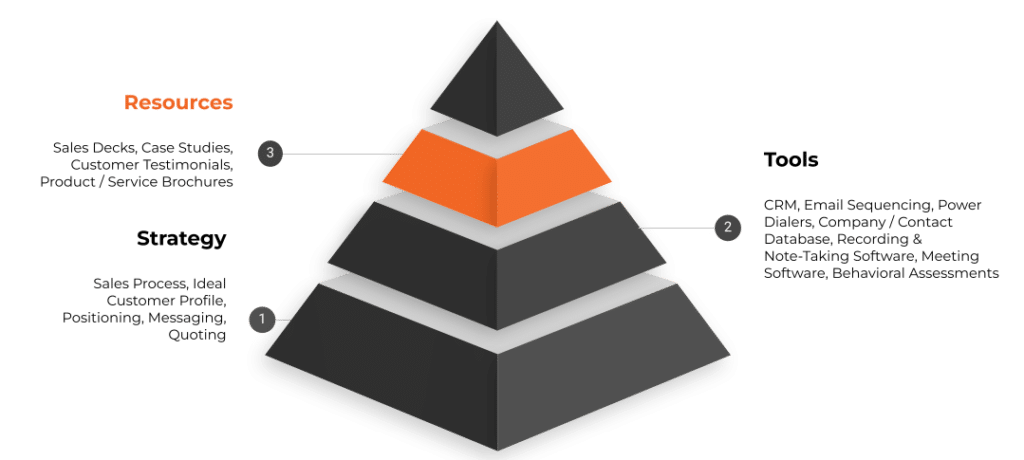 According to Demand Gen Report, 55% of B2B buyers now rely more on content to research and make purchasing decisions than they did a year ago.
Here are several resources you can create to engage your perfect manufacturing company prospects:
Sales Decks
There are a lot of variations on this one. What do you present and focus on that won't make your prospects minimize your Zoom window and work on something else?
Some examples of what you could include in a sales deck:
Your brand's story (starting with your ideal customer, their challenges, and how you solve them)
Testimonials
Case Studies
Process to work with you
Service specifics (most people start here and ignore the rest)
Don't create a deck that is entirely prescriptive. In almost no scenario should you be presenting the same thing to every customer.
Case Studies
Highlight successful projects completed for clients in your preferred industry.
In this example case study, we highlight key outcomes that our clients achieved by working with us: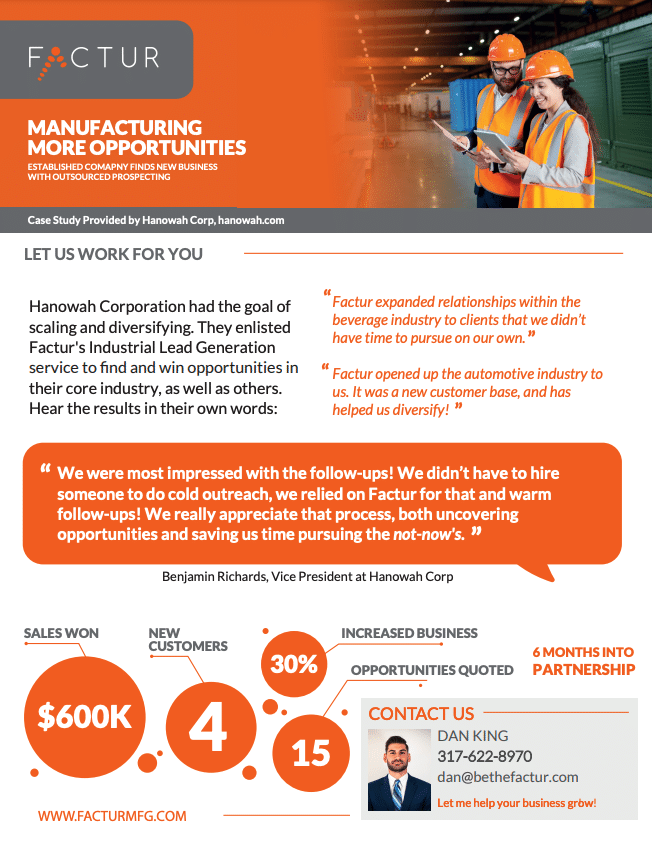 Bonus: Ask them to provide a quote about the outcome and include it in your case study.
Customer Testimonials and Reviews
Collect and share testimonials and reviews from satisfied clients to build trust and credibility. You can incorporate testimonials into various sales content types to reinforce your reputation.
The best way to get testimonials is to ask your manufacturing customers for them. If you can get 30 minutes of your clients' time in a video call, you can record that call and take 30-60 second clips of their testimonial and embed that into your sales decks or website.
Product / Service Brochures
While you may feel that you nailed the sales presentation, sometimes your prospects need a 1-pager to remind them of your offer and to help them visualize it.
A 1-pager also helps them to distribute the content without having to explain everything to their colleagues if there are other stakeholders involved.
If you can't summarize your product or service into a 1-pager, consider working with a graphic designer to present your offering with illustrations or graphics (vs. relying exclusively on words).
Part 4: Sales Enablement Training
You've got the strategy, tools, and resources in place. Now, how do you equip your sales team to use everything?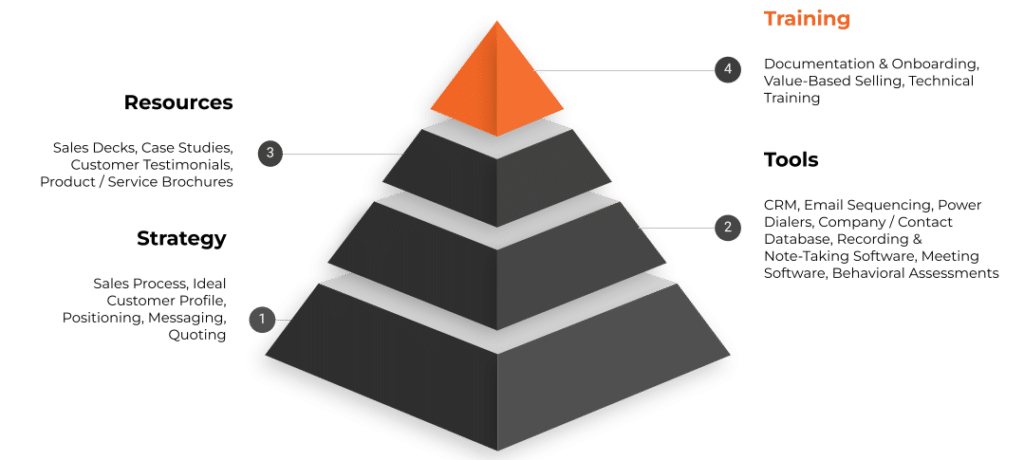 At the core of training and coaching is ensuring that you're communicating the process. This isn't that different than thinking about processes on an assembly line. But you have to document those processes and make them known.
Sales Process Documentation & Onboarding
Your new sales team members start. It's day one, and you hand them an employee handbook from 1995 and tell them to start calling on a list of customers you haven't updated in 10 years. Sound familiar?
Instead, ensure that your processes are documented in a living, breathing document.
Several documents we encourage our clients to focus on updating on an ongoing basis:
Sales pipeline definitions
Software usage documentation (e.g. CRM usage, usage of email sequencing software, power dialer, etc.)
Location of key resources including Sales Decks, Sales Enablement resources, Technical Training, Quoting Strategy, etc.
While there is software available to help document these types of resources, an easier place to start is writing up a Word doc for your key hires as a starting point.
Value-based Selling
Have you ever shown up to a sales call and just started pitching immediately, i.e. "pitch slap"? If you're not watching closely, your sales team might be guilty.
Instead, your first engagement should set out to understand the challenges they're facing.
"Value-based selling is, in my opinion, how professionals operate because it focuses all the attention on what is best for the prospective customer. If you're selling on price, you have just reduced your service to a commodity."

– Elijah Condellone
Utilize the 80/20 rule. Our own sales & outsourced sales team members tend to ask questions 80% of the time on their first call before presenting any information about the company we're representing. This allows us to set the stage appropriately for when we present an overview of our offering and sets us up for a follow-up call where we can get into the details.
Your 1st call should end leaving them wanting more. You've listened to their challenges, now how are you going to help them solve them? Give them a peak behind the curtain, but don't reveal the entire scene quite yet.
Technical Training – Product and Industry
Your customers are technical buyers. How do you make sure your B2B manufacturing sales team can speak to those needs?
Your Sales team needs to work closely with internal technical teams to learn the ins and outs of your product or service.
You can help your sales team members by:
Fostering relationships between sales & engineers. Your sales team and engineers may not naturally mesh, but they will need to get along to effectively transfer knowledge from engineer → salesperson → prospect.
Helping them live on sales calls. While "ride-alongs" may be a thing of the past, join your new sales team members' calls often early in their employment. You'll be able to quickly course correct and give prompt feedback, speeding up their process to independence.
Invest in outside training. Do you struggle to train people internally? Consider using outside resources to help your people improve, such as Sales Training, or even technical training if appropriate.
Embrace Sales Enablement as a Mindset
B2B manufacturing sales success goes beyond just having a well-equipped sales team with solid strategies, tools, and resources.
Sales enablement is more than a one-time implementation–it's a mindset and an ongoing strategic investment. It requires a commitment to continuous improvement, adapting to evolving customer needs, and aligning your sales and marketing efforts for maximum impact.
Bring this mindset into your company culture and drive more meaningful conversations, build lasting customer relationships, and achieve sustained revenue growth.